It started like this :
-Kristen Stewart Cheats on Robert Pattinson with Rupert Sanders
Typically, Kristen Stewart and Robert Pattinson are fighting off rumors about a baby or an engagement. The latter recently came out and said the couple isn't getting married any time soon.
But the Twilight Saga co-stars have a very different story to try and deny now: multiple outlets report Kristen cheated on Rob with Rupert Sanders, the director of Snow White and the Huntsman.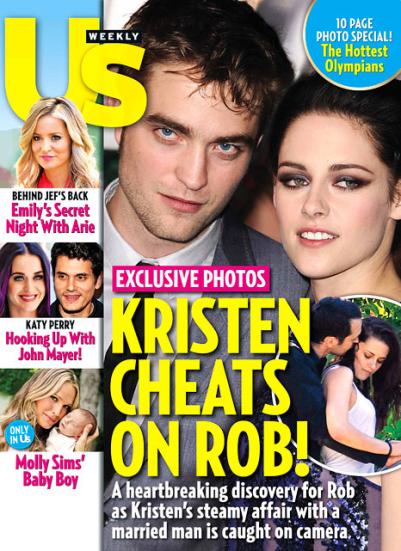 According to the latest issue of Us Weekly, Stewart and Sanders - who is married with two children - were actually caught in the act by photographers.
"It seemed like they couldn't get enough," a witness tells the tabloid of the make out session.
Why can't this be dismissed as just another ridiculous Robsten rumor? Because more respectable sources People and E! News have also confirmed the affair. The former says it was just a one-time fling.
"Kristen is absolutely devastated," an insider says to People. "It was a mistake and a complete lapse in judgment."
UPDATE: WHOA. Stewart has admitted to the affair and apologized for the incident.
-Rupert Sanders and Kristen Stewart: The Photographic Evidence!
A supermarket tabloid may have gotten it right for once regarding Robsten.
Much to the chagrin of Robert Pattinson.
Following the bombshell Us Weekly report that Kristen Stewart cheated on Pattinson with Snow White and the Huntsman director Rupert Sanders, the photographic evidence of this encounter has now been revealed - and if it's not 100% damning, it's fairly close to it.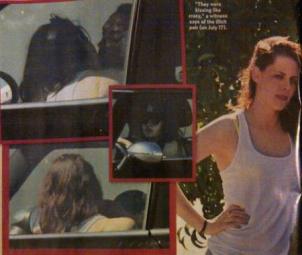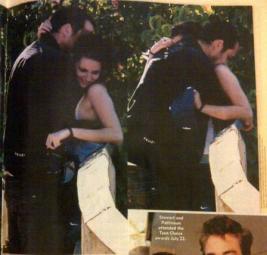 Stewart and Sanders are clearly locked in a couple embraces, with the magazine story quoting the photographer who snapped the pictures.
He claims the two were "kissing like crazy" inside Kristen's car and: "They'd only take a break whenever someone walked by. It seemed like they couldn't get enough of each other. She was swept up in the moment."
Neither Stewart nor anyone in her camp has denied the report, with one anonymous source simply telling People it was a one-time incident and Stewart is "devastated" over her actions.
But the ramifications of the alleged affair could be felt for a very long time: Sanders is married to Liberty Ross and has two children. Moreover, a sequel to Snow White and the Huntsman is expected to start shooting in the near future... with both Stewart AND Ross attached! Then there's promotion for Breaking Dawn Part 2to consider.
Kristen Stewart is shy and uncomfortable around the press on a good day. How will she possibly react to this kind of attention?
-Liberty Ross on Marriage to Rupert Sanders: Difficult, Lonely
Somewhat lost amidst the shock and sadness of Kristen Stewart cheating on Robert Pattinson is the other side of this dishonest coin:
Rupert Sanders, with whom Stewart made out on at least one occasion, is a married man with two children.
And in an ironic bit of timing, his wife - 33-year old model Liberty Ross - opened up to YOU Magazine just two weeks ago about her marriage to the director. It's not excuse whatsoever, but there clearly have been problems at home.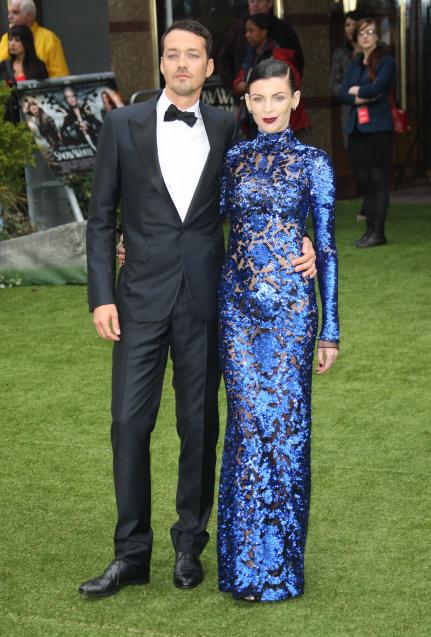 "I romanticized domesticity for a while, and loved having a shopping list of groceries stuck to the fridge for the first time," Ross told the publication. "But moving here and starting a life all over again was a lot harder than I had anticipated. I just didn't think it would be as isolating and daunting as it turned out to be."
With Sanders off filming Snow White and the Huntsman, Ross admits she got very lonely.
"I would never say out loud that I am raising my children alone, but a lot of the time it has felt like that."
Ross also lamented how she went from working in the modeling industry with stalwarts such as Karl Lagerfeld and John Galliano… to "living on an isolated hilltop with my husband gone most of the time." However, she ended the interview on a positive note:
"That's why everything feels so amazing now. We rode through the really hard times and we stuck it out."
Yeah. About that...
Sanders issued his own apology yesterday after news of his dalliance with Stewart broke. He said:
"My beautiful wife and heavenly children are all I have in this world. I love them with all my heart. I am praying that we can get through this together."
-Robert Pattinson wonders : Why do people cheat ?
Robert Pattinson is yet to speak out regarding Kristen Stewart's admitted affair with Rupert Sanders.
But although it wouldn't be difficult to imagine the pain this actor is in regardless, he actually expressed his take on infidelity in the April edition of Italian Vanity Fair.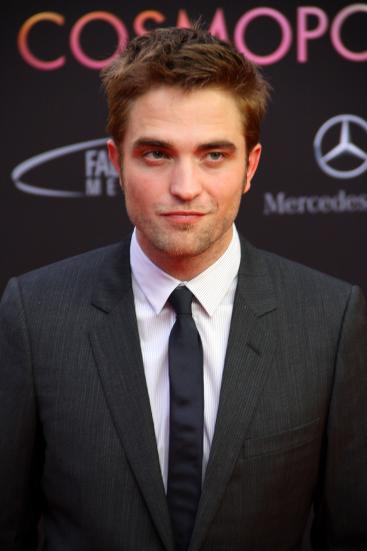 "There's a thing I've never got, that is, why do people cheat?" Pattinson asked in the article. "I can understand the impulse, but not how you can keep two relationships going at the same time for long. This usually happens to people with children."
Sanders, of course, does have two children. But Stewart claims her dalliance with the director was a one-time thing, a "momentary indiscretion."
"I'm not the casual-affair kind of guy," Rob also told the magazine. "If I choose to be with someone it's because I really want it. When I have a relationship, I'm 100% into it."
Stewart, as these makeout photos prove, can't say the same.
- Robert Pattinson moves out !
If a new report is to be believed, the beginning of the end for Robsten is upon us.
A People insider tells that publication Robert Pattinson has moved out of the Los Angeles home he's been sharing with Kristen Stewart and:
"I'm not sure they'll be able to recover from this."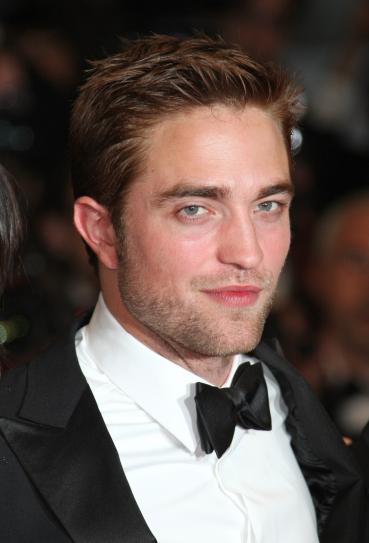 Refers to Stewart's admitted affair with Rupert Sanders, which comes complete with sordid photos and a scorned wife and young kids.
Pattinson has not spoken publicly about the incident, but this same source says he's in seclusion and is simply "heartbroken and angry." We'd have to imagine so.
Back in April, Robert gave an interview in which he questioned why anyone would ever cheat and added that when he's in a relationship, he's "100% in it." How ironic and unfortunate that those words now come back to haunt him.
Hang in there, RP!
-Liberty Ross Tweets Fuel Fire of Rupert Sanders & Kristen Stewart Affair
Did Kristen Stewart cheat on Robert Pattinson with Rupert Sanders?
It's the question all celebrity gossip followers are asking today, following reports by three separate outlets (People, Us Weekly and E! News) that all point to a fling between the Snow White and the Huntsman star and her director.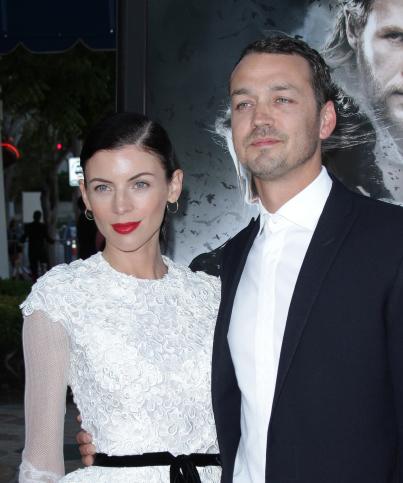 Now adding fuel to that fire? A few online actions by Liberty Ross, Sanders' 33-year old wife and the mother of his two children.
The model has left two Tweets since the Us Weekly cover hit the Internet, both making it appear as if she's buying into the story.
FIRST, she simply wrote "Wow," a seemingly innocuous word until you dig deeper and the last user Ross followed was none other than Us Weekly.
SECOND, she left the cryptic message: "sometimes good things fall apart so better things can fall together."
Ross has since deleted her Twitter account.
Moreover, Ross penned a blog entry earlier this summer about the premiere of Snow White and the Huntsman, including with it a photo of herself, Stewart and Charlie Theron.
"Last night was quite a night for me and my family - the worldwide premiere of Snow White and the Huntsman," she wrote at the time. "We have lived and breathed this project every day now for two years, so to release it to the world last night was extremely exciting."
But the posting is now gone.
-Kristen Stewart Apologizes for "Momentary Indiscretion" with Rupert Sanders
WOW. Kristen Stewart has come out and owned up to a romantic interlude with director Rupert Sanders.
Within hours of an Us Weekly cover blasting this story to the world, and with photos of a kiss between Stewart and Sanders heating up the Internet, the actress has taken the very rare course of admitting to her actions and addressing the man most affected by them, boyfriend Robert Pattinson.
"I'm deeply sorry for the hurt and embarrassment I've caused to those close to me and everyone this has affected," the actress said in a just-released statement. "This momentary indiscretion has jeopardized the most important thing in my life, the person I love and respect the most, Rob. I love him, I love him, I'm so sorry."
This is a remarkable development all around, considering Stewart and Pattinson rarely acknowledge they are even dating.
But Stewart gave herself no choice here but to accept responsibility for her cheating ways. Could it actually affect the box office haul of Breaking Dawn Part 2? How will Twihards react to the many appearances Kristen is likely to make in promotion of that film?
Will Robsten stay together?
So many questions. Not many answers at the moment. Just a stunned, crushed fan base trying to determine its next step.
- Rupert Sanders apologizes for Kristen Steward affair !
Moments after Kristen Stewart issued an apology for cheating on Robert Pattinson with Rupert Sanders, the director of Snow White and the Huntsman has come out with a statement of his own.
"I am utterly distraught about the pain I have caused my family," Sanders tells People. "My beautiful wife and heavenly children are all I have in this world. I love them with all my heart. I am praying that we can get through this together."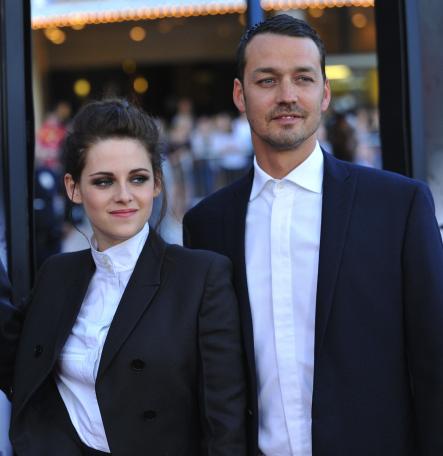 Sanders, 41 is married to a model named Liberty Ross. She actually played the young Snow White's mother in her husband's first feature film and she's the mother to his seven-year old daughter and five-year old son.
Ross reacted to Sanders' infidelity by removing a photo of herself and Stewart from her blog and by sending out a couple of incredulous Tweets before deleting the account .
-Kristen Stewart Penning Apology to Liberty Ross, Source Says
Kristen Stewart has already apologized to the public for her makeout session with Rupert Sanders, much to the consternation and horror of Robert Pattinson.
Now, an insider tells Radar Online, the actress is prepared to address Sanders' wife directly. She is apparently writing a note to Liberty Ross.
"Kristen didn't feel it was appropriate to issue a public apology to Liberty once the story of her affair with Rupert broke," the source says. "Instead, she's going to do the decent thing and write Liberty a private letter expressing her deepest regret for her actions."
The mole goes on to say that Stewart only wanted to mention Pattinson in her initial statement because she's "desperate to save" that relationship.
But she feels "awful" for getting in between a man, a wife and his two children.
For whatever it's worth to either Ross or Pattinson, a reliable website claims Stewart and Sanders did NOT have sex.
-Robert Pattinson on Kristen Stewart Apology: Unacceptable! Horrifying!
We discussed it in a recent edition of a magazine asks, but according to a new report, there really isn't a debate:
Kristen Stewart absolutely should NOT have issued a public apology after her affair with Rupert Sanders became tabloid and website fodder.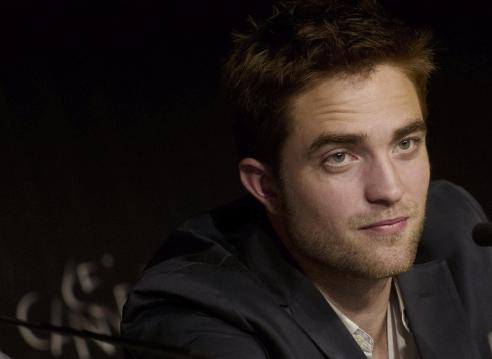 The Sun Times quotes a source who says Pattinson is "horrified" that Stewart took such a step because he's a "very, very proud man" and:
"The two of them had this very specific personal agreement about not 'going public' with their relationship, until they both agreed it was the right time. To do it this way - apologizing for cheating on him - ended up being totally unacceptable."
Is there any hope at all for Robsten? It's too early to say, although Robert has reportedly packed up and moved out.
The insider claims Pattinson is trying to remain in seclusion so he can "digest it all," but his stance on the public apology is clear:
"'She only had to call two people,'" Rob supposedly said afterward. ""Me and [Liberty Ross, Sanders' wife]."