He's sexy. He's a Cuban soap star. He's got the moves. And he's shirtless.
With all those things going for him, it's a miracle anyone on Dancing With the Stars even shows up to compete against William Levy. But Green Bay Packers star Donald Driver isn't about to hand over the Mirror Ball trophy just yet.
In fact, he might give William a run for his money in an "ab-off."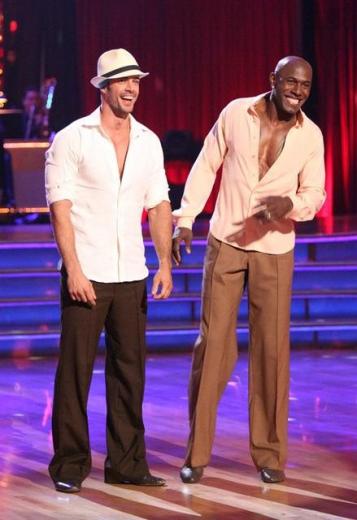 William Levy's sexy abs-baring salsa routine with partner Cheryl Burke on Monday's DWTS episode was a sign that the showdown is on, Driver says.
"William knows the ladies love us, but they love him a little bit more because he took his clothes off," Driver told People. "I haven't taken my clothes off yet."
I'm going to pace myself and talk to the wife; if the wife agrees then I'll take it off."
Disney star Roshon Fegan, 20, agrees, saying Levy's display "makes it personal ... I've got my eye on William and whatever his secrets are – working out in the gym, super-duper protein shakes – I'm gonna get me some muscles."
A worthy goal, but for now, it's Donald vs. William in this hunk-a-thon. Which DWTS star do you think is ... well, hunkier?